Marriage Contracts
The couple composes a personalized Nikah contract before the wedding date that addresses various aspects of their marriage and delineates the qualities they strive to uphold as righteous spouses. Our team guides our couples in the process and reviews the contract to ensure all requirements are fulfilled in accordance with the Islamic tradition.
Create a keepsake, customized nikah contract through Nikahnama.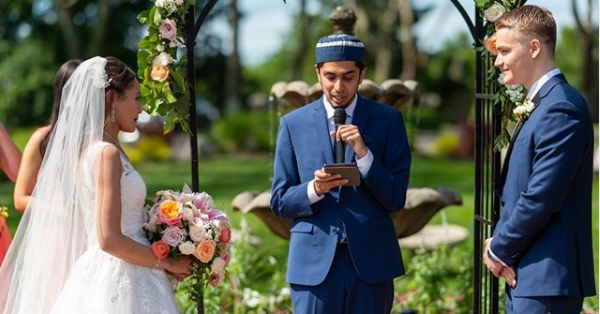 The "khutbah" is the most joyous and intimate part of the ceremony. Our officiants deliver a unique sermon that highlights each couple's personal narrative within an Islamic perspective. Each couple has the opportunity to contribute to how the sermon is addressed and what topics are covered by the officiant. We pride ourselves on our ability to effectively speak to crowds of various cultures, faiths and backgrounds.
"Nikah" is the Arabic word for marriage. The Nikah ceremony encompasses the signing of the marriage contract, the khutbah (marriage sermon), and the verbal agreement to marry between the bride and groom. The officiant will make sure the Islamic requirements for a marriage are fulfilled, while maintaining the integrity of our couples' expectations.
To ensure you are prepared for marriage, a pre-marital counseling session is held with a State certified Muslim counselor to discuss how to begin your journey together with a strong and loving foundation. The topic(s) covered in the session depend on the needs of each individual couple. Many couples explore communication, time management, and maintaining relationships with friends and family.
This session helps you navigate the challenges of living together and provides a forum for you to share your thoughts, feelings and wishes.